FEILDING'S KIWI CHRISTMAS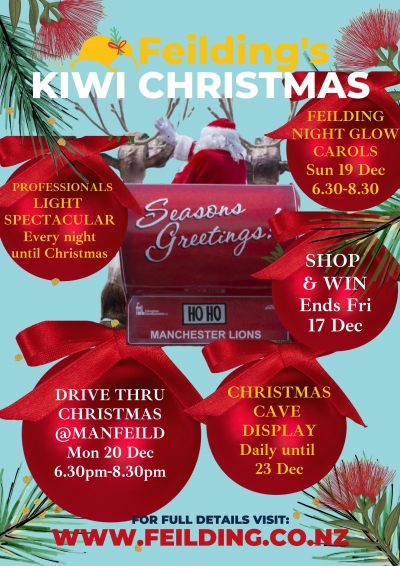 The Feilding & District Promotion team are determined to spread the spirit of Christmas in the town this year- against the odds!
Living and working with Covid restrictions has brought about many challenges for everyone.
Having community events and Christmas parades cancelled across the regions has been a devastating sign of the times.
The team has been on a mission to investigate ways to continue the towns long standing tradition of bringing community together and celebrating Christmas.
Feilding is reknown for it's real Kiwi Christmas festivites with having the best Christmas Carnival & Parade in the region that draws thousands of people into the town.
While the annual Christmas Carnival cannot be held this year because of Covid, we've put a new spin on Feilding's popular Christmas Parade.
on the Track at Manfeild will reverse the roles of parade spectators and parade display floats.
FEILDING'S 12 DAYS OF CHRISTMAS SHOP N WIN promotion is running with daily draws to reward local shoppers through until Friday 17 December 2021.
ROTARY CLUB OF FEILDING'S CHRISTMAS CAVE light display is set up in the old Post Office building at 4 Goodbehere Street from 8-24 December bringing good cheer and festivities into the heart of Feilding's CBD.
FEILDING FARMERS MARKET will be open every Friday through December with the last market of the year being held on Friday 24 December. The first market in the new year will open on Friday 7 January 2022.
FEILDING NIGHT GLOW CAROLS
Sunday 19 December—6.30pm to 8.30pm.
The Brass band will be playing in Manchester Square where you can donate any canned food or toiletry items for Manchester House and

Mobile choirs will be around Feilding -so come out to your gates and join in the singing.
PROFESSIONALS CHRISTMAS LIGHTS SPECTACULAR
8pm - 10.30pm every night until Christmas.
Set off on a glittering sparkly after-dark tour of the 22nd running of the Professionals Christmas Lights Spectacular.