Taumarunui On the Main Trunk Line 2020
12th Sep 2020 09:00 AM
Our route will take us over the Mangaweka viaducts which are among the tallest in the North Island, with views seldom matched in New Zealand. You can see the picturesque Rangitikei River below you as it flows past the high sandstone cliffs. Overlander on viaduct Leaving National Park we then travel down one of the rail wonders of the world, the Raurimu Spiral. This magnificently engineered piece of railway, steeped in history with stories of how an engineer with courage, foresight and a brilliant ability overcame one of the most challenging railway engineering assignments of the last century. Descending the Raurimu Spiral we speed on to our final destination, "Taumarunui on the Main Trunk Line". We arrive at Taumarunui for our lunch, served with large pieces of nostalgia. It will be very like the fare served in the Taumarunui refreshment rooms when the Auckland Express pulled in many years ago. You may then wish to visit the railway museum (on the platform) and wander down memory lane before it's "All aboard!" for our return journey to friendly Feilding. The trip will be hauled by a KiwiRail diesel locomotive. Depart Feilding - 9.00 am Depart Marton - 9.35 am Arrive Taumarunui - 1.10 pm Depart Taumarunui - 2.40 pm Arrive Marton - 6.30 pm Arrive Feilding - 7.00 pm The Marton Railway Station is at the end of Station Road East, which comes off Wellington Street the main road in Marton. There is very limited but adequate parking at the station as KiwiRail have blocked vehicle access to the platform. There is no security at the railway stations so please ensure there is nothing of interest to thieves in your car. For additional information phone 06 3235444 or email Rod@steamrail.org.nz. The trip will be hauled by a KiwiRail diesel locomotive.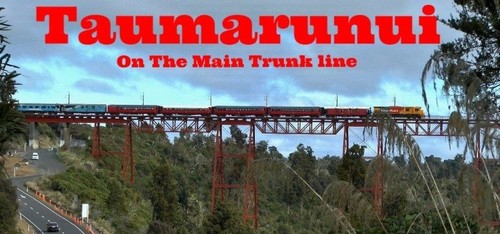 Dates
Saturday 12th Sep, 2020 09:00 AM - Saturday 12th Sep, 2020 07:00 PM
Prices
Adult Fare Child four and under free on a knee of an adult. - $160.00
Adult Fare - Early Bird for a limited time - $144.00
Child Fare Under 15 years old - $95.00
Venue
Feilding Railway Station
Aorangi St
Feilding
Powered By EventFinder, Click here for full details.